Welcome!

Welcome to Sacramento Promotional Products!

Proudly serving San Jose to Reno since 1999!

Promotional items are a fun and effective way of getting your business on the map. To get the most mileage from your promotional items, it's important that you are adding value to your customers. Giving them products that they can use in their everyday lives is not only valuable to them but to your business as well. When your customers use the product you're getting more brand impressions, leading to brand recognition and a loyal customer base.

What items will add the most value? Consider these five.

Branded Tote Bag

Tote bags win by a long-shot for best promotional items. While this may not come as a shock to you, there are a number of factors that make this the number one item on the list. It can be used at trade shows to carry around brochures and information. It is versatile. It can be used as a grocery bag, a beach bag, a work bag, and much more. It has a large surface area. You can put your logo, slogan, or brand image in large print on the side – brand recognition at its best.

Promotional Pens

Coming in at a close second are pens. Consider how often you lose a pen, need a pen, or find one rolling around in your back seat. Everyone uses pens, at work and at home. Although your customer may not be registering your name and logo every time they use it, the brand is still getting a significant amount of recognition. Thus, pens are a smart go-to promo item for a variety of reasons. They are inexpensive to brand and purchase. You can easily buy them in bulk and get rid of them at every event you attend. They are always in need, and won't go out of style.

Business Travel Mugs

What does every one need? Coffee in the morning. And who do you want your customers to wake up with? You, of course. Give them a reason to remember who you are every morning as they savor their first cup of coffee and truck off for another work day. Travel mugs are an excellent middle of the road promotional choice. They aren't going to cost too much, though they'll be more expensive than pens. They're used daily, giving you the most brand exposure – to them, their co-workers, fellow morning travelers, and more. They'll last a long time!

Company Lip Balm

When your lips are burning from too much sun exposure or a bad case of chapped lips, lip balm is a necessity. Its small form and practicality makes branded lip balm a promotional winner. You can choose different flavors to satisfy every customer's preference. You can show your eco-friendly side with natural or organic beeswax lip balm. You can pick an SPF lip balm for even more added-value.

Corporate Umbrella

Don't let anyone rain on your customer's parade by giving them an umbrella. You can utilize as much or as little space as you want for logo, slogan, etc. This is a necessary accessory for almost everyone.

Choosing the right promotional product will determine how cost effective the promotion was. When you choose items that add high value to your customers, you can be sure that they'll use them. This gives you a greater opportunity to get recognition, brand impressions and loyal customers.

We want you to know at some point in the past EVERY SINGLE CLIENT was in the exact same position you are in today: They used to work with another promotional company. Unfortunately for one reason or another that other company disappointed them. So they decided to contact us. We Guarantee our orders, we Guarantee our order quality, and we have an additional 5% Free Goods Guarantee. They have all been loyal clients ever since.


Featured Item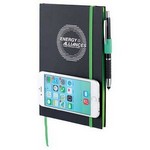 Color Pop Suction Bound JournalBook™ B...
Set includes (2700-98) Color Pop Suction Bound JournalBook™ and (1067-71) Liberty Ballpoint Stylus.This exclusive design will be sure to brighten up your day and conveniently hold your smartphone with...